安全運行を最高のサービスとし、誠実なサービスでお客さまの満足を高め、信頼される企業を目指します。
yamagata ZAO BUS 2019-2020
yamagata ZAO BUS 2019-2020

Service period 2019.12.14(sat)-2020.4.4日(sat)
Price: Adult (one way) \2,000 Child (one way) \1,500
timetable
Departure from Sendai airport (bus stop number#1)

| | | | | |
| --- | --- | --- | --- | --- |
| bus number | No.1 | No.3 | No.5 | No.7 |
| Sendai airport | 10:20 | 11:50 | 13:15 | 16:00 |
| ↓ | ↓ | ↓ | ↓ | ↓ |
| Yamagata Zao Hot Spring Bus Stop | 12:10 | 13:40 | 15:05 | 17:50 |
Departure from Zao hot springs (front of tsuruya hotel)

| | | | | |
| --- | --- | --- | --- | --- |
| bus number | No.2 | No.4 | No.6 | No.8 |
| Yamagata Zao Hot Spring Bus Stop | 10:15 | 13:10 | 14:40 | 16:00 |
| ↓ | ↓ | ↓ | ↓ | ↓ |
| Sendai airport | 12:05 | 15:00 | 16:30 | 17:50 |
Reservation number TEL:0223-23-4737
* Please make a reservation 7 days in advance of day of the journey by 18:00.
* If there are no reservations, then that service will be canceled.
* To make a reservation or cancel within 6 days of the journey, please call us directly.
* Service times may be changed or services canceled without notice, depending on the weather and road conditions. Moreover, we cannot assume any responsibility if passengers miss a connecting flight due to service delay or cancelation.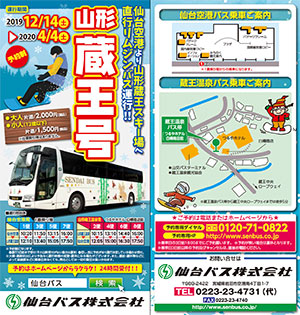 宮城県岩沼市空港南4丁目1-7
TEL

0223-23-4731

FAX

0223-23-4740